Rent is Going Up Everywhere – Phoenix is No Exception.
Posted by Danny Kahn on Thursday, August 18, 2022 at 9:58 AM
By Danny Kahn / August 18, 2022
Comment
It's no secret that everything is more expensive these days. Sure, we hear plenty of soundbites about gas prices. More than that though, trips to the
grocery store or going out to eat
are costing consumers more.
Utilities
are certainly not getting cheaper, nor is the price of
used cars or trucks
, let alone new vehicles.
Perhaps the toughest economic pill to swallow though is the rent increase that 71% of renters in the US have faced in the past year. We spoke with renters in both Phoenix and Scottsdale whose rent has increased in the past year. A couple on the Phoenix and Scottsdale border who's been renting their 1,800 square feet, 3-bedroom, 2-bathroom home for the past 10 years had their rent increase from $1,400 to $1,500 per month. They consider themselves lucky compared to their friends who live just two miles away, in a Scottsdale zip code, in an older but similarly sized home, whose rent was increased from $1,800 to $2,500 per month. These stories repeat all across the Valley, from Gold Canyon to Surprise.
Why is Rent Skyrocketing?
Aside from the obvious (that word we're all sick of hearing - inflation), why is rent going up so much and for so many renters? The Hustle performed a survey of a little over 2,000 renters and 740 landlords across the United States recently. Here are a few of the results:
71% of renters had rent increases in 2021-2022
The average rent increase was 14.6% ($275/month)
In certain cities (Miami, San Diego, Austin), the average rent increase was more than 25%
4 out of every 10 renters spend more than 30% of their gross income on rent
More than half of all landlords say "market demand" is the reason for rent hikes
Market Demand

Market demand is just one way of saying that there are a lot of people looking to rent houses. The more people looking to rent, the higher rental rates will be. The fewer people looking to rent, the lower the rental rates will be. In our current housing market, with the cost of buying a home increasing, naturally, the cost of renting a home will too.

What Reasons are Landlords Giving for Rent Hikes?
Of the 740 landlords surveyed by The Hustle, half said they issued a rent increase equal to or less than that of the 9.1% rate inflation and half said they issued a rent increase above the rate of the 9.1% inflation. When asked the reason, beyond that of "market demand", some of the reasons given were:
Tim: "The market dictates the rent, not the landlord. It's simple supply and demand."
Michelle: "I raised 50% because landscaping cost us a fortune with increased labor, gas, and material prices. Small landlords like me shouldn't be lumped in with the big corporate entities."
John: "[Conglomerate] rental companies take inventory out of the sales market and then increase rent. I base my rents off their comps."
Scott: "We don't take on the risk of owning rental properties as a charity enterprise, and we don't always have years where we make money. It's a business investment plan."
Darla: "Improvements cost a lot of money. Water heaters used to be $450. Now they are $1,295."
Kylie: "The costs of everything went so high [these] past two years that it was impossible not to raise the rent — insurance, taxes, the cost of keeping staff. We're not taking any all-inclusive trips to Bali; we're trying to barely remain profitable."
Ryan: "Insurance and property taxes have increased ~30% YoY [in the] last 3 years. My net income has decreased even though my rents have gone up."
Sara: "I own in a hot market and can do what I want."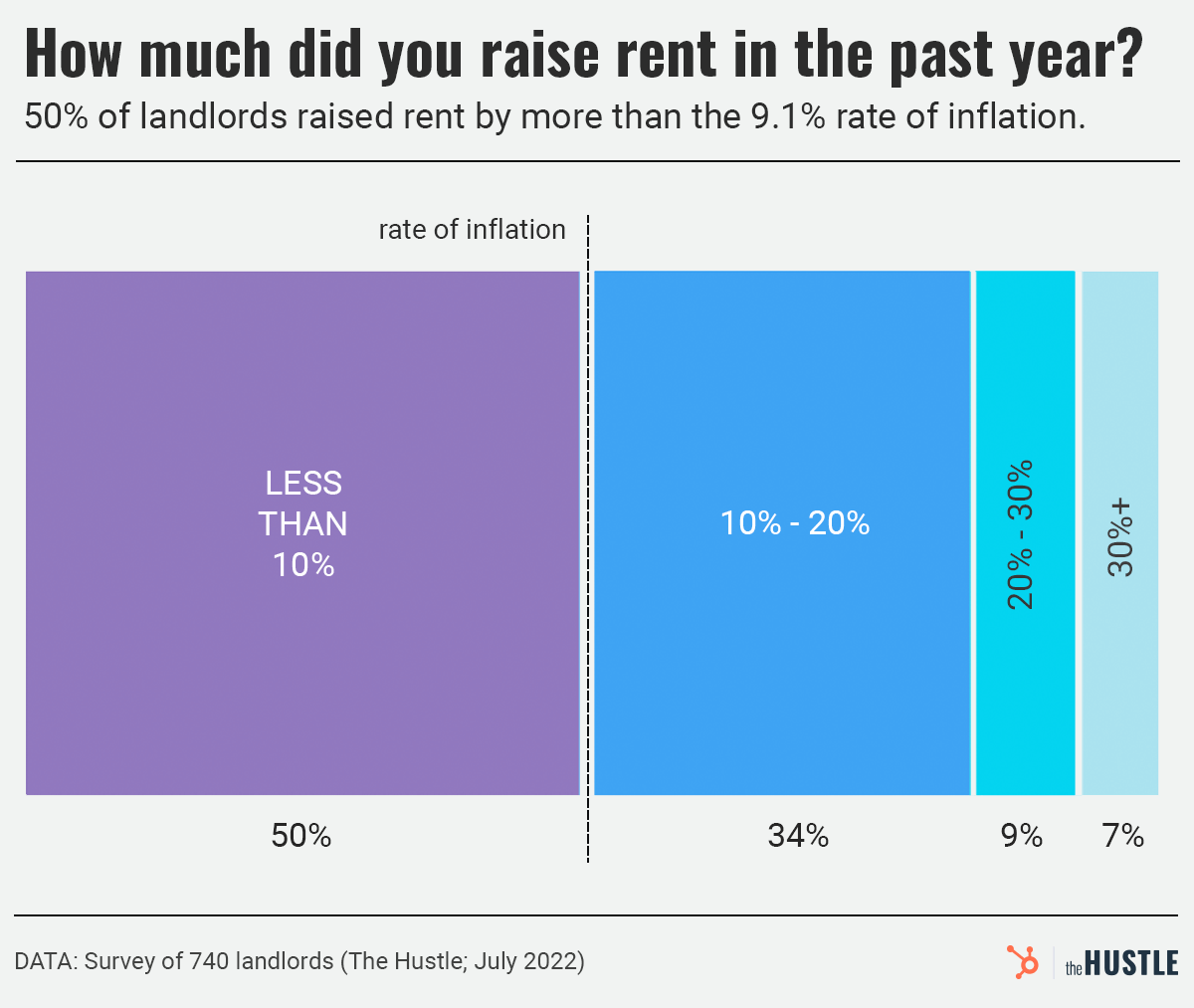 There are 44m renters in the US. The Hustle survey noted that of those surveyed, their audience was "largely comprised of young professionals who live in nonrural (city or suburban) areas." So, while this isn't a complete picture of US renters, it does give an adequate snapshot. Here in Phoenix, it was determined that rent increase averaged out to be about 22% higher than that of previous years. Monthly rent in Phoenix as of July 2022 averages out to be $1,590 for an 805 sq. ft. apartment.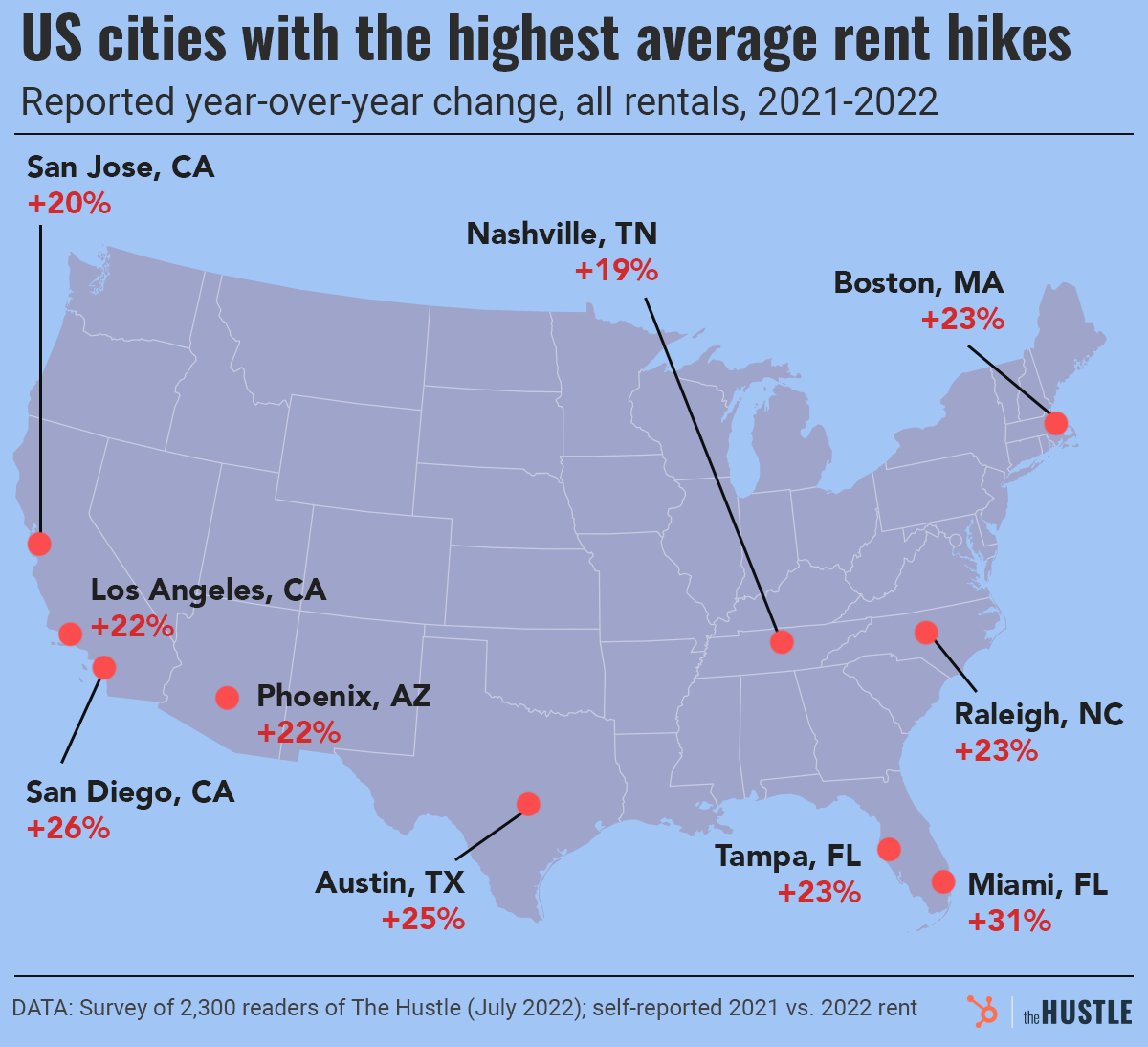 What Kind of Landlord Do You Have?
Other factors that seemed to play into how high and whether rent hikes occurred were the type of landlords. Did renters have mom-and-pop landlords (where the landlord managed less than 5 properties)? Were they managed by mid-size property management companies (100-500 units)? Or were they managed by larger conglomerates (10k+ units)? It seemed the larger the management firm, the more likely the renter was to have their rent increased.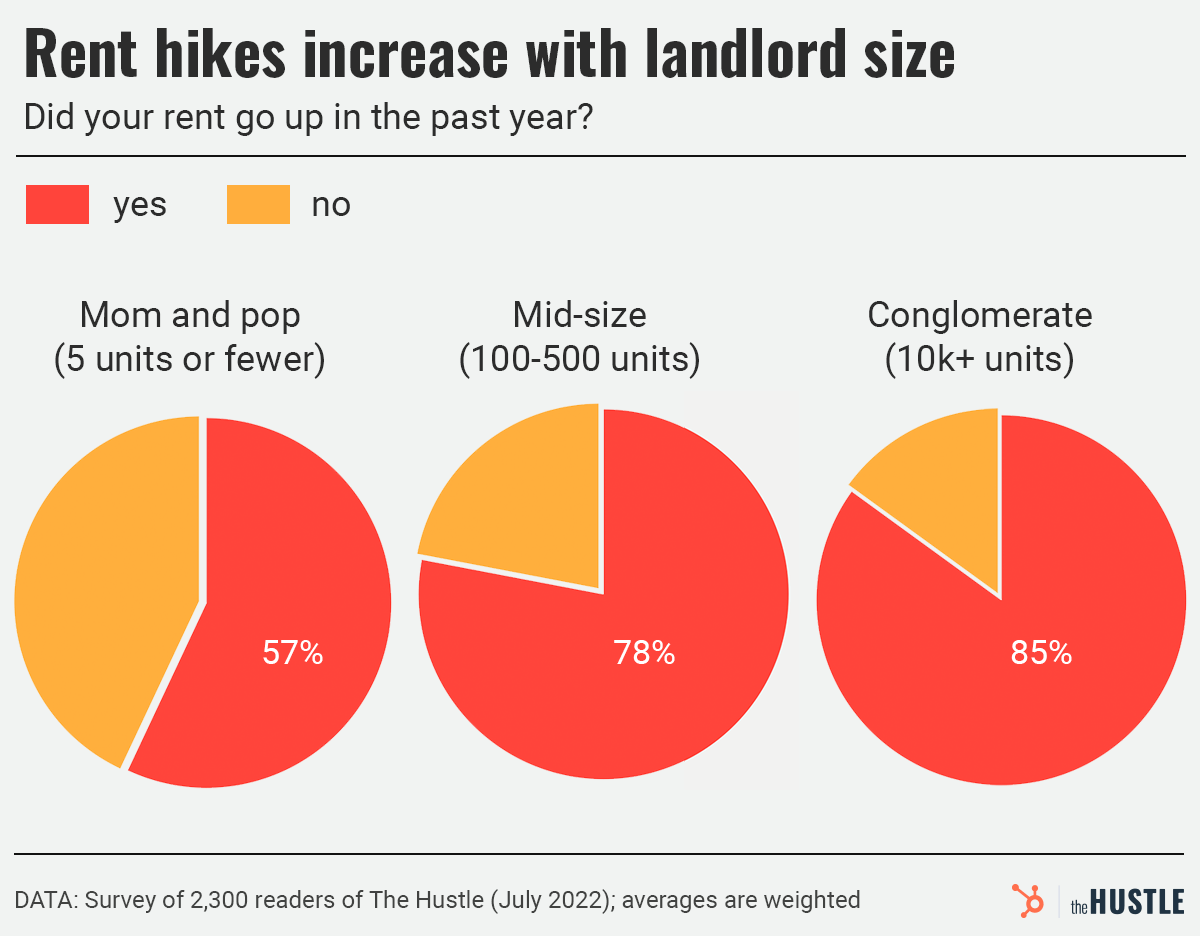 Local Policies Surrounding Rent Laws
Additionally, most cities don't have policies set at a local level to prevent rent increases. Rent control and rent stabilization are two such policies. In short, rent control is a government program that prohibits landlords from raising the rent a certain amount. Only 4 states and Washington D.C. have rent control policies in place. Arizona is not one of these states. Rent stabilization is very similar to rent control and equally as available, or rather unavailable, to those across the US. There are only a few historical and technical differences.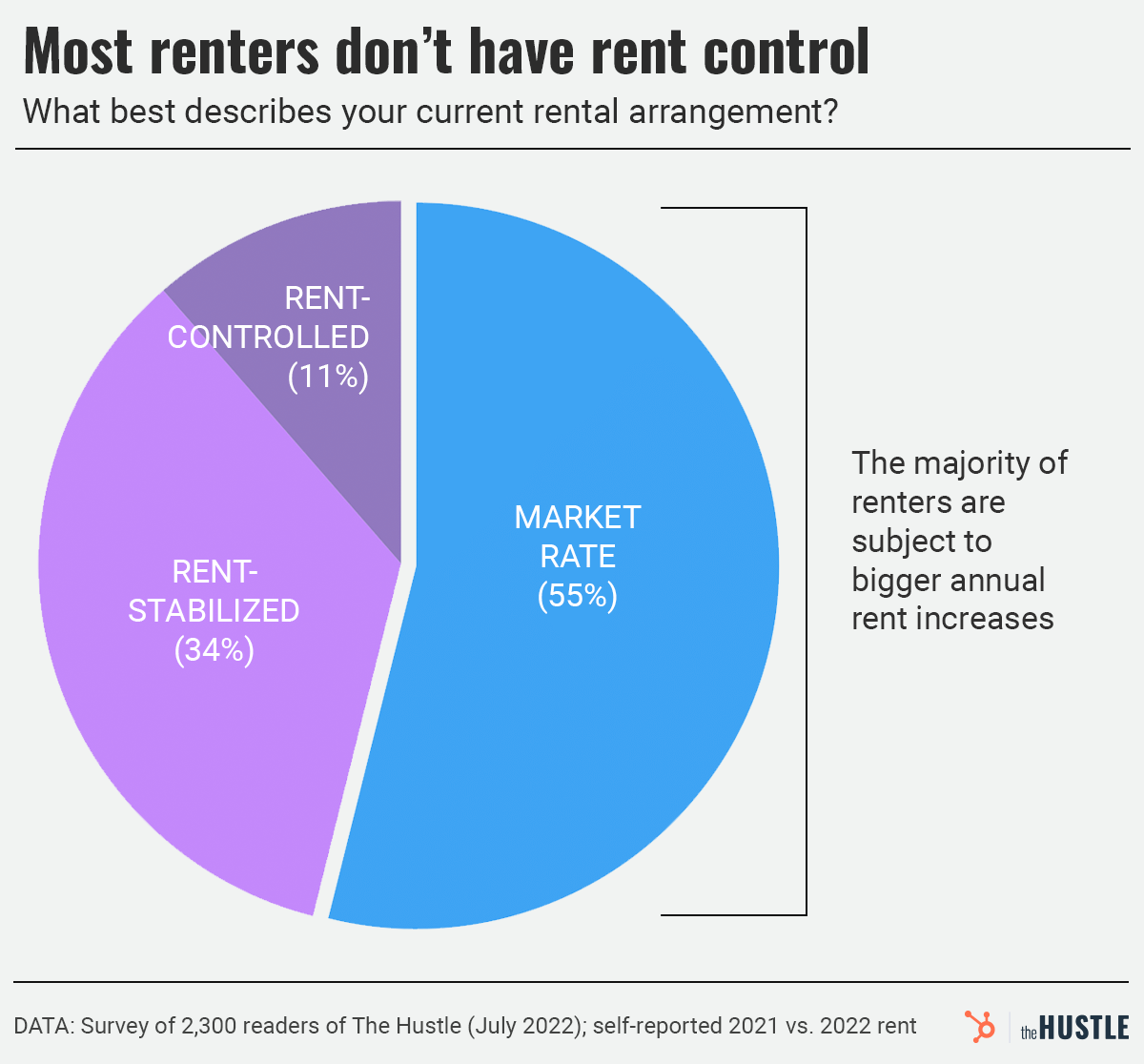 Here in Phoenix, despite the efforts of lawmakers, we have no rent control laws in place. We also have some of the strictest eviction laws. Arizona landlords are permitted to issue an eviction as soon as five days after a tenant misses rent. While this is a bit more of a political issue than most renters would like for it to be, there is some hope that the rental market is starting to slow down. Although Phoenix hasn't made the list for the top 5 cities with rental decreases yet. We hope to be on that list soon.
Is There Any Good News?
In the meantime, it's never too early to start preparing to buy a home. Even if your credit or your income doesn't allow this to be an option yet, planning now will set you up for success in the future. We offer a free downloaded checklist for preparing for home financing, as well as plenty of education on which questions to ask before buying a home in Phoenix and so much more. We're also happy to talk with you if you have any questions.