5 Questions You Must Ask Before Buying a Home in Phoenix
Posted by Danny Kahn on Friday, April 1, 2022 at 10:52 AM
By Danny Kahn / April 1, 2022
Comment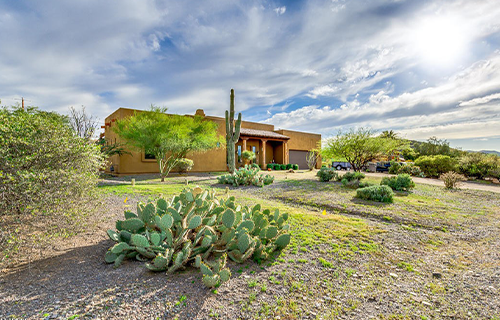 So, you're ready to buy a home? Congratulations on taking this big step. Whether you're just beginning your search as a first-time homeowner or you're a seasoned veteran, there are still a few important questions to ask for each new home purchase.
With home values in Phoenix increasing over 32.5% in the past year and growing by more than 86% since 2016, the median price of a home for sale in Phoenix is now $429,000. Having answers to these five questions before diving into your new home search may not only ease a few stresses for you and your real estate agent; it could also mean saving you thousands of dollars in the end. Let's get started…
Mortgage Pre-Qualification or Proof of Funds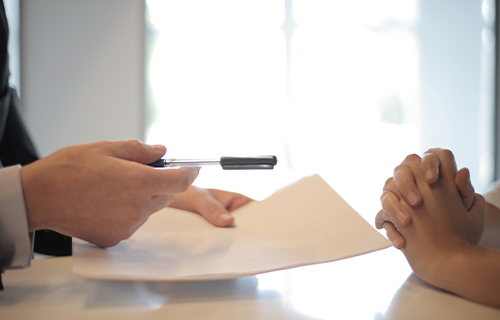 1. Have I been pre-qualified by a mortgage broker, or do I have sufficient funds to purchase a home?
If you are new to the home-buying experience, a pre-qualification is exactly what it sounds like. It's the first step you take when you decide to buy a home. Find a mortgage broker, answer a few quick questions, and walk away with a letter that says how much mortgage you pre-qualify for.
A few important things to note about pre-qualifications:
- Your mortgage broker won't actually pull your credit or verify your financial history for a pre-qualification. The information is self-reported. So, pre-qualifications are not to be confused with preapprovals.
- Pre-qualifications are very fluid documents. You can be pre-qualified one day and not the next. This can depend on any number of variables, from your revolving credit to the state of the current market.
- Pre-qualifications or proof of funds are needed to secure an offer.
If you do not obtain a pre-qualification from a mortgage broker, you must provide some other proof of sufficient funds to purchase a home. A Proof of Funds letter (POF) can be obtained from your bank. Most banks are familiar with this process and already have a template ready to go. If yours doesn't, the POF should include the following:
- Your bank's name and address
- Your name
- Official bank statement showing the available total funds in the account(s)
- Current Date
As this letter may be shared with multiple agents and lenders, it's not a problem if you'd like to redact your private account information from the POF.
Budget vs. Reality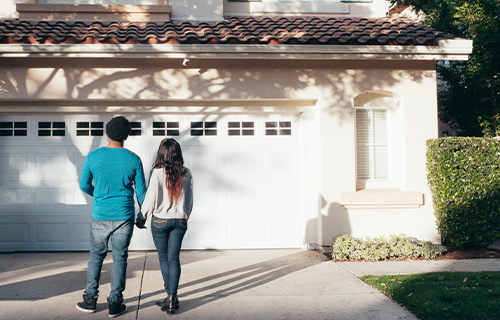 2. What do I want to spend on the new home and what is important to me?
Have you ever watched those reality TV shows where a couple goes to buy a home and gives their real estate agent their must-have list and the budget that they cannot go over? Then, the agent shows them three houses that are either way over their budget or that have nothing on their must-have list?
Three years ago, I would have told you that's just drama for TV. Today, houses are being listed and sold on the same day. Inventory is at historically low numbers in Phoenix. If we look at homes that are not under contract or pending, there are only about 7,700 available for sale as of the middle of March 2022. Compare that to just before the pandemic hit in March 2020 and that number was doubled at 14,000.
I don't say this to scare you, just to prepare you. Thinking about this question is a great first step to point your real estate agent in the right direction of finding your perfect home. A good agent has both buyers and sellers in his pocket and the experience needed to sort through the rubble to find a home that meets your budget and needs.

Location, Location, Location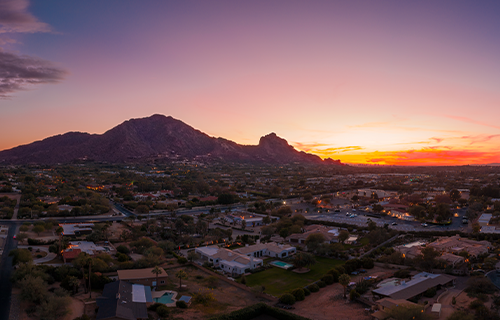 3. Where do I want to live?
It doesn't matter how the market is doing, location will always be a factor when it comes to real estate. This familiar quote, "…location, location, location…" dates as far back as the Chicago Tribune in 1926 and still rings true today.
The Phoenix metropolitan area has 386 constituent neighborhoods with median home prices ranging from $2.2M in the Woodshire / El Camello neighborhood to $290k in the Central City South area.
Geographically speaking, Phoenix is a little over 500 square miles (9,223 square miles if we're counting all of Maricopa County). The average commute time for most Valley residents is about 26 minutes. Phoenix Metro boasts a simple freeway system of loops and interstates connecting most of the Valley, with an easy grid system for the surface streets.
East Valley
The East Valley is broken up into cities East and South of Phoenix and Scottsdale. These cities include Chandler, Gilbert, Mesa, Queen Creek, Apache Junction, and even Tempe. Depending on who you ask, because it's such an internationally known travel destination, Scottsdale is a stand-alone city or considered an East Valley city.
The East Valley is home to more than 1.4 million people. It's one of the fastest-growing regions of the Phoenix metropolitan area, with thousands of new jobs being created yearly. Companies like Able Aerospace, Amazon, AT&T, Banner Medical, Dignity Health, Comtech, and JP Morgan Chase have all expanded or relocated into East Valley cities in recent years. The East Valley median age is 38. It's a great place for families looking for room to grow or a place to settle.
West Valley
A bit more densely populated, about 1.7 million residents call the West Valley home, many of whom commute to Central Phoenix or the East Valley for work. The West Valley is rich in history, culture, and tourism. With something to do for everyone, the West Valley has sports arenas, museums, shopping, music, and plenty of restaurants to fuel the busy lifestyle. Cities in the West Valley include Avondale, Buckeye, El Mirage, Glendale, Goodyear, Peoria, Surprise, Tolleson, Youngtown, and Sun City.
Central Phoenix
About 56k residents live in Central Phoenix with a median age of 30. Central Phoenix is mostly home to singles who live and work in the area. The Downtown Phoenix area is a mix of luxury high-rise condos, townhomes, and smaller historic single-family neighborhoods. There are more hotels, easy access to the METRO Light Rail Service, and more than 9 million square feet of private office space.

Move-In Ready or Fixer Upper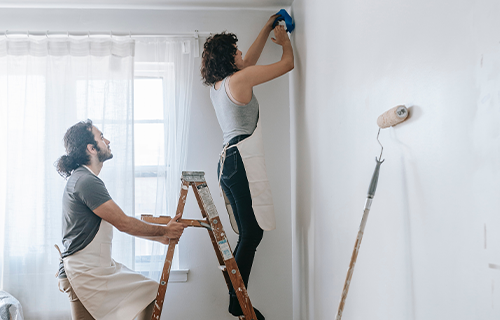 4. Do I want a turn-key home or am I willing to roll up my sleeves to make it my own?
This could be an entire blog by itself. There is a lot that goes into the pros and cons of buying a fixer-upper versus buying a move-in-ready home. You'll want to carefully consider your options and talk it through with your real estate agent and mortgage lender.
A few high-level things to keep in mind are:
- Are you ok with living in a home while it's being remodeled? Even if just one room needs to be renovated and you're doing the work yourself, this still means that once you get approved, find the right house, go through the buying process, pack up all your stuff, move into your new (or new-to-you home), and unpack all your stuff…there is still a lot of work to be done. Are you ok with this?
- Do you have any design skills, or will you need to hire someone? This may seem harsh, but there are a lot of decisions that need to be made with a fixer-upper. Are you prepared to spend hours focusing on which of the twenty-seven shades of blue you want to paint the front door? Or scrolling through pages and pages of tiles for the backsplash?
- Lots of builders in the Valley, like Fulton, Cullum, or D.R. Horton, do offer customizable move-in ready homes. You can select things like doors, sinks, and lighting. However, you can't go as detailed as you can with a full renovation and an interior designer.
- Calculate the costs of renovations versus a move-in-ready home. Often, homebuyers believe that shopping for a fixer-upper will save them money versus a move-in-ready home. According to a recent study, about 44% of buyers go over their renovation budget, ultimately costing more out-of-pocket, than a move-in-ready home.

Tenure of Homeownership



5. Can I see myself calling this home for at least 5 years?
One of the scariest things about buying a home is signing that dotted line (or the 90 pages of dotted lines) for a 30-year mortgage. Something to keep in mind to help ease your stress a bit, as of November 2021, the average U.S. homeowner stays in their home for 13.2 years. Here in Phoenix, that number is even less, averaging out at 8.3 years.
Aside from tax implications and increased equity, staying in place for 5+ years has positive effects on homeowners' credit history. If you're planning to move in less than five years, it may be best to look into long-term renting for the time being.
Conclusion
The home buying process is a different journey for everyone. Finding the right real estate agent to walk you through the process can make all the difference. Danny and his team know and understand the Phoenix Metropolitan area well. With over a decade of experience in some of the most challenging real estate markets in history and hundreds of millions of dollars in successful closings, Danny's track record has proven successful in navigating any transaction. Educating his clients and helping them make informed decisions is his highest priority.
If you're just starting your journey, if you're unsure about how to answer these questions, or if you're ready to buy your next home - reach out today to get started on your home buying process with Danny.